---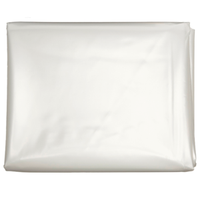 Water Birth Tub Liner for Birth Pools
Malawi's House
This liner will cover all of the following pools.
+ AquaDoula
+ La Bassine
+ La Bassine Maxi
+ *Birth Pool in A Box Mini
+ *Birth Pool in A Box Regular
* If you are using this liner with a La Bassine Pool or Birth Pool in a Box MINI size be advised that there will be a fair amount of excess plastic due to the wide variety of pools this liner is made to accommodate. 
* Birth Pool in a Box does not recommend using any generic liner on their Birth Pools – it will not give a secure, tight, custom fit and may not be watertight, undermining the integrity of the Birth Pool in a Box system. To ensure the highest quality water birth experience, Birth Pool in a Box recommends you order the Regular or Mini custom Birth Pool in a Box Liner. 
+ Made of food grade plastic
+ Polyethylene Liner.  Contains no phthalates, lead, cadmium or latex.
+ 4 ml thick
+ Double sealed seams prevents leaks
+ Latex free
+ Dimensions: 115" x 80"
This liner fits baggier than a custom fit liner.  Once water is added to pool the additional plastic is less noticeable.  This is not a custom liner and will not fit any of these pools with the tight, custom fit you would achieve with a custom liner.